Llandow 2004
It is this year that the Quantum marque turns 18, so as part of the celebrations the factory organised a track day at the Llandow circuit on Saturday 5th June and invited the QOC members to join them. The turn out was good with at least 10 owners cars on the track throughout the day, as well as factory Xtremes, a Napier and the Cyclone Xtreme.
Several owners camped on the Friday and Saturday nights at the Acorn Camp Site which I would highly recommend due to the good facilities, low price and very helpful and friendly owners.
Below are some photos from the day and hopefully I will be getting some video footage from Clem's 330+bhp Cosworth powered Xtreme, as he had his camera running for all his sessions, which should make for excellent viewing seeing as his was the quickest road car of the day!
"Snoozey" Andy Heaton in his 1.8 Turbo Diesel saloon proving that you don't need to have a fast car to have fun on the track, having said that he was no slouch through the corners.
Hamish Freeman out on his first track day in his H4 - let's hope he doesn't drive his Beauford like this when it's ready, he intends using it as a wedding hire car!
Clem's extreme Xtreme with it's 330+bhp cosworth engine (left), and as seen on Channel 5's "Be a Grand Prix Driver" (centre and right)
This photo of me on track was taken by pro-Event-pix and I have a nice framed version at home. Visit that site and buy other photos from the day.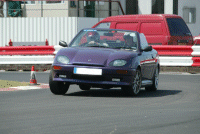 The team from the factory were keeping a close eye on all the drivers over the day and at the end of the event John Sampson presented 2 awards for the drivers they deemed to have improved the most throughout the day. In second place was Gareth (left) and first went to Robert Grieg (right).
Finally back at the camp site in the evening we had a BBQ and desert was supplied by Trish Freeman in the form of a birthday cake. Well done Trish what a nice thought and it tasted really good too!