Donnington 2002
In 2001 I found this show a little disappointing as I'd heard it used to be as big, if not bigger, than Stoneleigh. Thankfully 2002 was a better year with better space for club stands compared with the previous year. The Quantum Owners Club stand, as at most shows, was one of the bigger stands as shown below from the photos.
Between the QOC stand and the main halls we had a pair of Ford RS200s - one real and the other a very good replica. Obviously the real RS200 got most of the attention and I took plenty of photos too!
Inside the main hall Quantum Sports Cars were relaunching the H4 as the H4S. Previously all we had seen were sketches of the new front end, which had looked very promising, however presonally I was disappointed with the actual new front end, but the back end did look quite tasty! I did speak at length with a gentleman who was very interested in buying an H4, but he wanted an H4S, not the original H4, so there is obviously a market out there. Hopefully we will be seeing more the the H4S soon. (Sorry for the darkness of some of these photos, but the camera barely coped with the low lighting levels in the hall.)
Metisse Sportscars were showing an interesting new product in the shape of a sports pickup type vehicle. It is good to see that there are some different ideas being applied to the kit car world. It's nice to see someone making a very good attempt at something different, as there are already plenty of Lotus 7 style cars and Cobra replicas.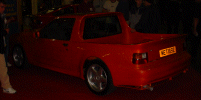 I did like the dashboard in this Ginetta and hopefully at some stage I might even attempt to restyle the dashboard in my car to use a similar style instrument cluster. Watch this space!
The show had a good selection of trade stands and auto jumble making it easy to find the parts you might have been after. Outside the Donnington race circuit was in use all day by a selection of kit cars and production cars. Looking at the number of cars on track at the same time I was in some ways glad that I was not out there - there wasn't really room to push the car to it's limits and beyond and get away with it. If you pushed the car too far it looked like you'd probably collect someone as you went.
Overall I felt that it was a strong show and a big improvement on the previous year.